Re: Last Album You Downloaded III
It's a pretty nice collection you have going and is probably right in my personal sweet spot too (late-50s, early-60s hard bop, heading into post-bop, modal and free jazz). I could list stuff all day, but I'll limit myself to 5 that I think you could enjoy: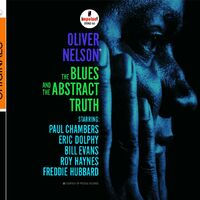 1) Oliver Nelson - 'Blues & The Abstract Truth'
It was the first release on the Impulse! label (whom would latter sign Coltrane for his seminal later-career releases including 'A Love Supreme'). You get members of Miles' first great quintet (Paul Chambers on bass & Bill Evans on piano), plus the underrated Freddie Hubbard on trumpet, a guy who you could slot into anywhere from more traditional be-bop to free jazz explorations and not miss a beat. Then you have the wildcard of Eric Dolphy on sax and flute. Oliver Nelson leads and composes all the material. He went onto composing for film and television later on, and as you could imagine, his pieces are quite rich, detailed and varied, with lots of intersecting lines. Add the fine soloists on top and you have one hell of an album.
2) Cannonball Adderley - 'Mercy, Mercy, Mercy - Live At The Club'
Cannonball joins up with his trumpet-wielding brother Nat and Weather Report keyboardist Joe Zawinal for a 'live in front of a studio audience' session. The vibes from this one are electric, the title track a laid back classic. Has a bit more of a Southern flavour that you'd expect from the second lines which can be a welcome change to the modal and free stuff that was happening at the time.
3) Art Blakey & The Jazz Messengers - 'Moanin''
You can Google Art Blakey and soon realise that he pretty much played with anyone who was anyone. On this record he gets to unleash on 'Drum Thunder Suite', a piece specifically written to showcase his talents. Plus you get a version of pianists Bobby Timmons' definitive title track, and a young Lee Morgan on trumpet. Benny Golson's other compositions here are highly underrated too, and he receives far less credit than what some of the more celebrated 'musical directors' of the Jazz Messengers (Horace Silver, Lee Morgan, the Marsalis brothers) that came before and after him (possibly due to his short tenure in the group). It has been referred to as the archetypal hard bop album.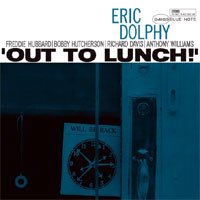 4) Eric Dolphy - 'Out To Lunch'
Because you can never have too much of Dolphy's unique and completely individual take. Plus you get him mixing it up between alto sax, flute and bass clarinet. This is far more free and, as the title suggests, 'out'. Contains a stellar line-up to back Dolphy on a record featuring all his own compositions - Freddie Hubbard on trumpet, a young Tony Williams on drums, and perhaps with an almost album stealing performance by Bobby Hutcherson on vibes. Seriously, there should be more vibes in free jazz. Unfortunately Dolphy's last album as a band leader before his untimely death that same year ('64).
5) Wayne Shorter - 'Speak No Evil'
Just a great late-night record with a stellar band in support, enlisting bassist Ron Carter and pianist Herbie Hancock from Miles' second great quintet (of which Shorter was a pivotal member of at the time), as well as Elvin Jones on drums from Coltrane's quartet, and Freddie Hubbard again making an appearance on trumpet (like I said above, one of the most versatile players of his era, equally at home on a long Coltrane jam like 'Olé' or something more restrained like here). This is more straight though focuses on the modal jazz of the time that was popularised by Miles' on 'Kind of Blue', and Shorter would go a long way to informing what became post-bop during this period. Plus, 'Infant Eyes'!!!
Hopefully that helps. I wanted to go with band leaders you didn't already have rather than listing the other great Miles, Mingus, or Coltrane records that are great as well, but shared members with the stuff you do have. Sometimes looking at the personnel of a sessions and seeing the names of players you like can be a great way of discovering other new artists, because everyone was collaborating around then quite frequently. Always happy to talk jazz too.