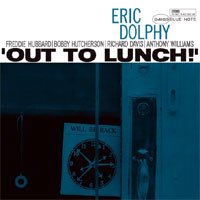 4) Eric Dolphy - 'Out To Lunch'
Because you can never have too much of Dolphy's unique and completely individual take. Plus you get him mixing it up between alto sax, flute and bass clarinet. This is far more free and, as the title suggests, 'out'. Contains a stellar line-up to back Dolphy on a record featuring all his own compositions - Freddie Hubbard on trumpet, a young Tony Williams on drums, and perhaps with an almost album stealing performance by Bobby Hutcherson on vibes. Seriously, there should be more vibes in free jazz. Unfortunately Dolphy's last album as a band leader before his untimely death that same year ('64).
Always happy to talk jazz too.