Renegades of Chunk III w/ Lugubrious Children // Ona Snop ++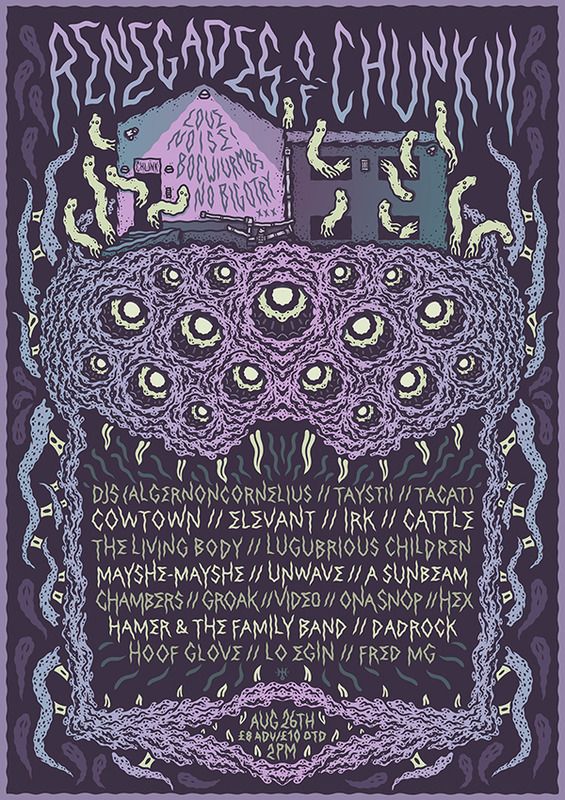 Renegades of Chunk is back for it's third edition.
Loads of bands, food, art and good vibes.
It'll be fully licensed and we'll be using the profit to install a second bog which should make peoples visits down our gaff more pleasant!
26th Aug / CHUNK / 2pm - Late
£8adv - £10otd / Love / Noise / BOCw/urM8s / No Bigotry
TICKETS HERE - skiddle.com/e/13025517
DJs
TACAT
One of the SLUT DROP residents, eclectic and occasionally dark.
https://soundcloud.com/tacat
AlgernonCornelius
Experimental hip hop based in Manchester.
https://algernoncornelius.bandcamp.com/
Taystii
One of the Come Thru team, positive bangers.
Bands
COWTOWN
Party jams with a grange hill vibe.
https://cowtown.bandcamp.com/
Elevant
Atmospheric rock from Liverpool.
https://elevantband.com/
Irk
4/4 oh no it's not 4/4 accent chasers.
https://irkband.bandcamp.com/
Cattle
Too much stuff for a swift changeover.
https://cattle.bandcamp.com/
Living Body
Leeds super group ffo domakesaythink.
https://livingbodylife.bandcamp.com/
Lugubrious Children
Wisecrackin party grind.
https://lugubriouschildren.bandcamp.com/
Mayshe Mayshe
Minimalist chilled out loops with loads of vocal harmonies.
https://mayshe-mayshe.bandcamp.com/
UNWAVE
Would normally use an acronym of the words Jaggy and Pretty but they never got the joke.
https://unwave.bandcamp.com/
a sunbeam
Cerebral jams from London/Brighton.
http://asunbeam.net/
CHAMBERS
Sister Doom duo based in Hull and Leeds.
http://www.ukchambers.com/
Groak
4/4 oh yeah it is 4/4 sludgers.
https://groak.bandcamp.com/
VIDE0
New squad featuring pixel artist ᴘᴤᴛʟ ᴄᴤᴛʟ.
Ona Snop
Stop drop and blast.
https://onasnipsnop.bandcamp.com/
HEX
My fave leeds hcore band.
https://hexhexhex.bandcamp.com/
Hamer & The Family Band
Brand new project from Hamer.
Hoof Glove
Skronky breaks, punk riffs and horrid rackets.
Dadrock
Two piece brain rock.
https://dadrockrock.bandcamp.com/
Lo Egin
Like Thou with a horn section.
Fred M-G
Fred from ZoZos new solo doings.
Pls spread the word!! x
Stage Times (may well change)
1.00 AM - Tacat
12.30 AM - Taystii
12.00 AM - Algernon Cornelius
11.30 PM - Cowtown
11.00 PM - Elevant
10.30 PM - Irk
10.00 PM - Cattle
9.30 PM - Living Body
9.00 PM - Lugubrious Children
8.30 PM - Mayshe - Mayshe
8.00 PM - Unwave
7.30 PM - A Sunbeam
7.00 PM - Groak
6.30 PM - Chambers
6.00 PM - Ona Snop
5.30 PM - Vide0
5.00 PM - Hex
4.30 PM - Hamer & The Family Band
4.00 PM - Hoof Glove
3.30 PM - Dadrock
3.00 PM - Lo Egin
2.30 PM - Fred MG