CONFESSOR A.D. - MCD out now! (Death metal/ Black metal)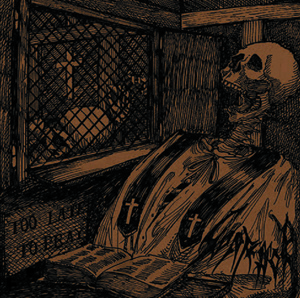 CONFESSOR A.D. - "Too late to pray" MCD out now!
CONFESSOR A.D. is an old school metal band from France/ Strasbourg,
they play a style between old school death metal and black metal, with some old thrash touches. This will be warming the wounds of those who dig early 90's European and scandinavian metal.
Listen:
https://www.youtube.com/watch?v=fS9d7US8Tms
Their first recording composed of 5 songs is now available as a professionally pressed MCD with colour cover.
Available against 3,50 euros + postage from this webshop:
http://nihilisticdistro.tictail.com/pro ... o-pray-mcd
Or from Bandcamp:
https://nihilisticholocaustrecs.bandcamp.com
Greetz,
Gabriel/ NIHILISTIC HOLOCAUST